DigITAll: optimal coordination in civil engineering
The DigITAll project ensures the smooth coordination and approval of civil engineering measures. Everyone profits from this: construction companies, line operators, authorities and residents
At the beginning of 2020, the Hamburg Senate voted in a comprehensive digital strategy for the city. Part of this strategy is the DigITAll project of the DigiLab department of the Agency of Roads, Bridges and Waters (LSBG). In a quite exemplary fashion, it points out the advantages digitalisation can realise for the economy, the administration and residents. In the civil engineering segment, DigITAll will ensure simplified coordination during construction planning and an optimised traffic flow.
"As an important part of the overarching Digital Strategy for Hamburg, DigITAll is aimed at guaranteeing climate-friendly and smooth mobility, as well as a resident-friendly administration."
The goal of DigITAll is to establish a completely digital process (end-to-end) for the processing of all relevant activities in the context of civil engineering measures that accelerates the processes. Everyone will profit from this process, from the project managers applying for the approval of a construction measure through the officials that examine and approve this to the residents that should be impaired as little as possible by a construction site in the street.
The BauWeiser online service is developed to this purpose in the context of DigITAll. This is a comprehensive networking platform that networks the participants in such a planning and approval process, meaning line operators, construction companies, planning agencies and approval agencies.
Central data management
With BauWeiser, which integrates, for example, proven digital specialist processes like the line enquiry tool ELBE+ and the georeferenced coordination tool roads, users are provided with a single digital service with central data management, in which the previously numerous analogue processes are consolidated.
"More information is available in the digital processes, and filling out the applications is thus easier and faster,  allowing higher quality at the same time", according to project manager René Binnewerg. The project manager speaks of a proactive data exchange. Applicants do not need to search for information. The administration instead makes this available to them electronically via BauWeiser.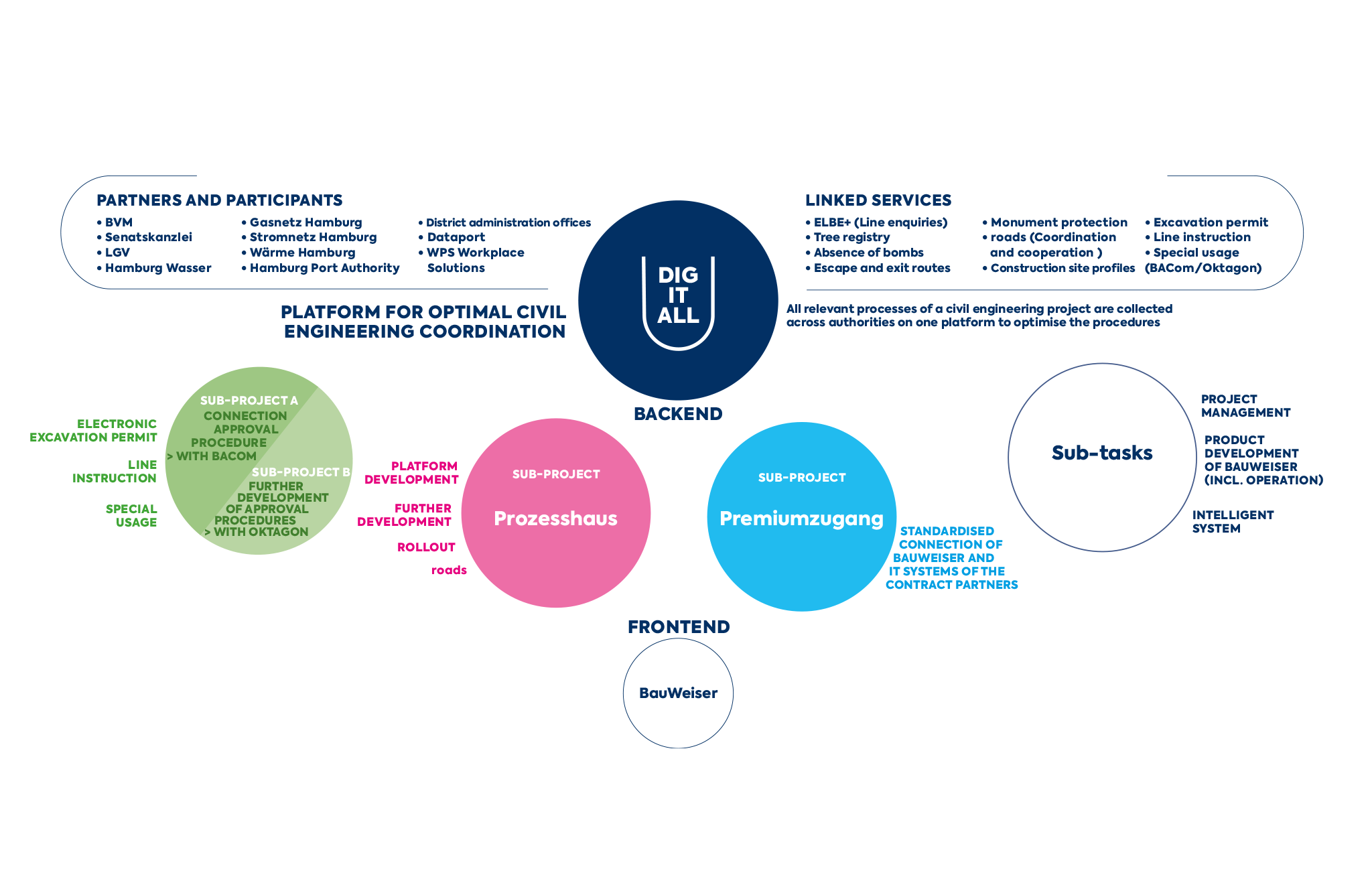 Partners directly connected
The project is realised with many partners from industry and government. The public utility companies are directly connected as contractual partners via the so-called Premium Access. BauWeiser guarantees that the various enquiries that need to be taken into account for planning (like the clarification of lines, trees, absence of bombs) can be clarified directly within the process. In the case of construction measures that overlap chronologically and spatially, the Process House provides the body of rules for coordinating these and increasing synergies, such as project cooperation.
Several individual applications, which need to be submitted in parallel, and the repeated entry of, for example, master data are thus a thing of the past. The processes are standardised, the approval processes streamlined and data security improved.
Residents also profit
The advantages of the digitalised process also ultimately benefit residents. Optimised construction measure coordination improves traffic flow in the city. "The traffic jam is one of the most significant causes of environmental pollution, at least as far as air quality is concerned", René Binnewerg emphasises. "And the pollution load is also always reduced when traffic jams are prevented."